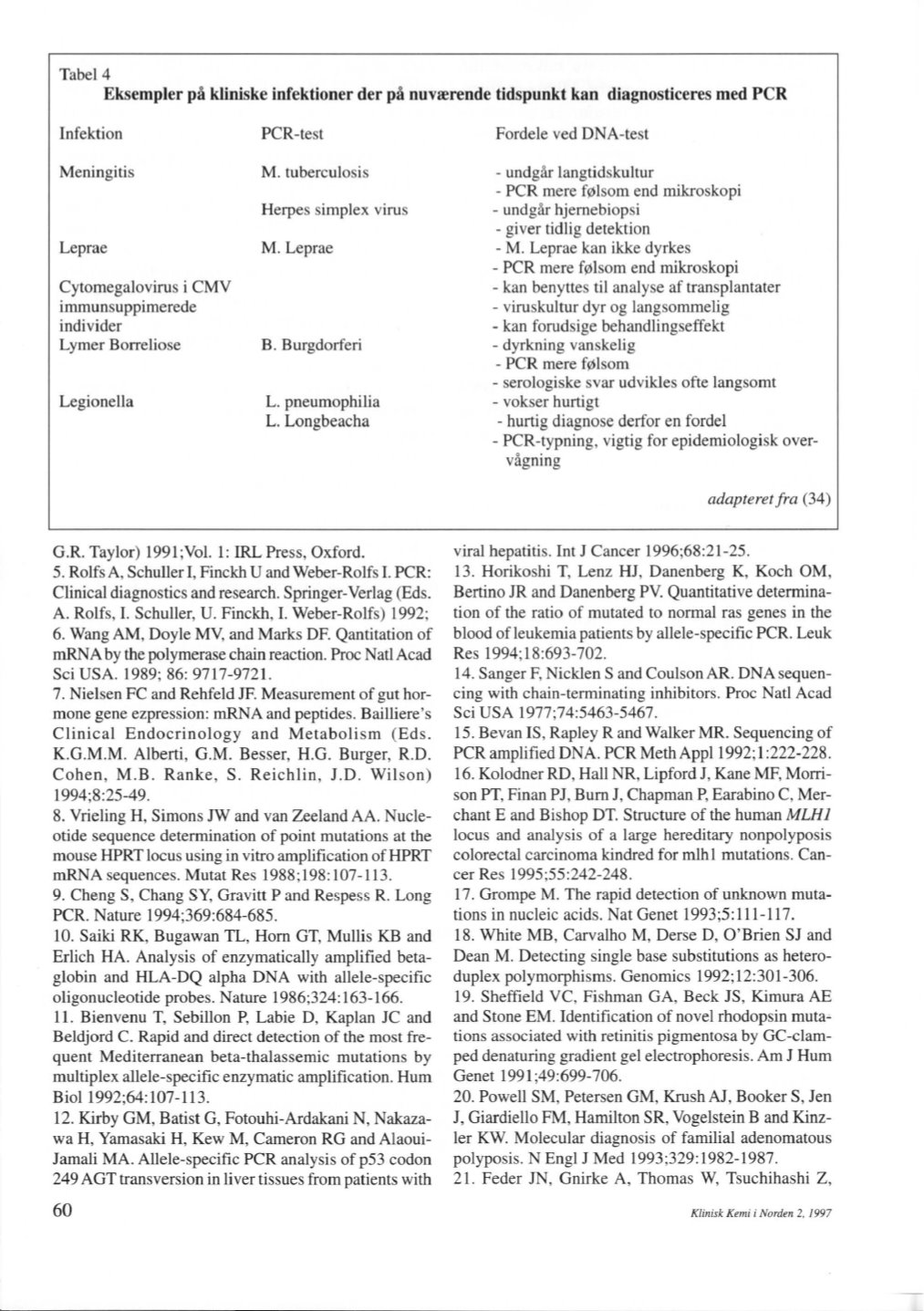 Eksempler på kliniske infektioner der på nuvrerende tidspunkt kan diagnosticeresmed PCR
5. RolfsA,Schuller I, FinckhU andWeber-Rolfs I. PCR:
Clinical diagnostics and research. Springer-Verlag (Eds.
A. Rolfs, I. Schuller, U. Finckh,
6. WangAM, DoyleMV, andMarks D
mRNAby the polymerasechain reaction. ProcNat!Acad
Sci USA. 1989; 86: 9717-9721.
7. Nielsen FC andRehfeld JF. Measurement of gut hor–
monegene ezpression: mRNAand peptides. Bailliere's
Clinical Endocrinology and Metabolism (Eds.
K.G.M.M. Alberti, G.M. Besser, H.G. Burger, R.D.
Cohen, M.B. Ranke, S. Reichlin, J.D. Wilson)
H,
and van ZeelandAA. Nucle–
otide sequence determination of point mutations at the
mouseHPRT locus using in vitro amplificationofHPRT
mRNA sequences.Mutat Res 1988;198:107-113.
9. Cheng S, Chang SY, Gravitt P and Respess R. Long
PCR. Nature 1994;369:684-685.
10. Saiki RK, Bugawan TL, Horn GT, Mullis KB and
Erlich HA. Analysis of enzymatically amplified beta–
globin and HLA-DQ a1pha DNA with allele-specific
oligonucleotide probes. Nature 1986;324:163-166.
11. Bienvenu T, Sebillon P, Labie D, Kaplan JC and
Rapid and direct detection of the most fre–
quent Mediterranearr beta-thalassemic mutations by
multiplex allele-specific enzymatic amplification.Hum
12. Kirby GM, Batist G, Fotouhi-Ardakani N, Nakaza–
H,
H,
KewM, Cameron RG andAlaoui–
Jamali MA. Allele-specific PCR analysis of p53 codon
249AGT transversion in liver tissues from patients with
- PCR mere fs;llsom end mikroskopi
- M. Leprae kan ikke dyrkes
- PCRmere fS?llsom end mikroskopi
- kan benyttes til analyse af transplantater
- viruskultur dyr og langsommelig
- kan forudsige behandlingseffekt
- serologiske svar udvikles ofte langsomt
- hurtig diagnose derfor en fordel
- PCR-typning, vigtig for epidemiologisk over-
adapteret/ra
vira! hepatitis. Int J Cancer 1996;68:21-25.
13. Horikoshi T, Lenz HJ, Danenberg K, Koch OM,
Bertino JR and Danenberg PV. Quantitative determina–
tion of the ratio of mutated to normal ras genes in the
bloodof leukemia patients by allele-specificPCR. Leuk
14. Sanger F,NicklenSandCoulsonAR. DNA sequen–
cing with chain-terrninating inhibitors. Proc Nat! Acad
Sci USA 1977;74:5463-5467.
15. Bevan IS, Rapley R andWalkerMR. Sequencing of
PCR amplifiedDNA. PCRMethApp! 1992; l :222-228.
16. Kolodner RD, Hall NR, Lipford J,KaneMF,Morri–
son PT, Finan PJ, Burn J,Chapman P, EarabinoC,Mer–
chantE and Bishop DT. Structure of the human
locus and analysis of a !arge hereditary nonpolyposis
colorectal cardnorna kindred for mlh1 mutations. Can–
17. GrompeM. The rapid detection of unknown muta–
tions in nucleic acids. Nat Genet 1993;5:111-117.
18. White MB, Carvalho M, Derse D, O'Brien SJ and
DeanM. Detecting single base substitutions as hetero–
duplex polymorphisms. Genomics 1992;12:301-306.
19. Sheffield VC, Fishman GA, Beck JS, Kimura AE
and Stone EM. Identification of novel rhodopsin muta–
tions associated with retinitis pigmentosa by GC-clam–
ped denaturing gradient gel electrophoresis. Am J Hum
20. Powell SM, Petersen GM, KrushAJ, Booker S, Jen
J, Giardiello FM, Hamilton SR,VogelsteinB and Kinz–
ler KW. Molecular diagnosis of farnilial adenomatous
polyposis. N Engl JMed 1993;329:1982-1987.
21. Feder JN, Gnirke A, Thomas W, Tsuchihashi Z,
Klinisk Kemi
i
Norden
2,
1997