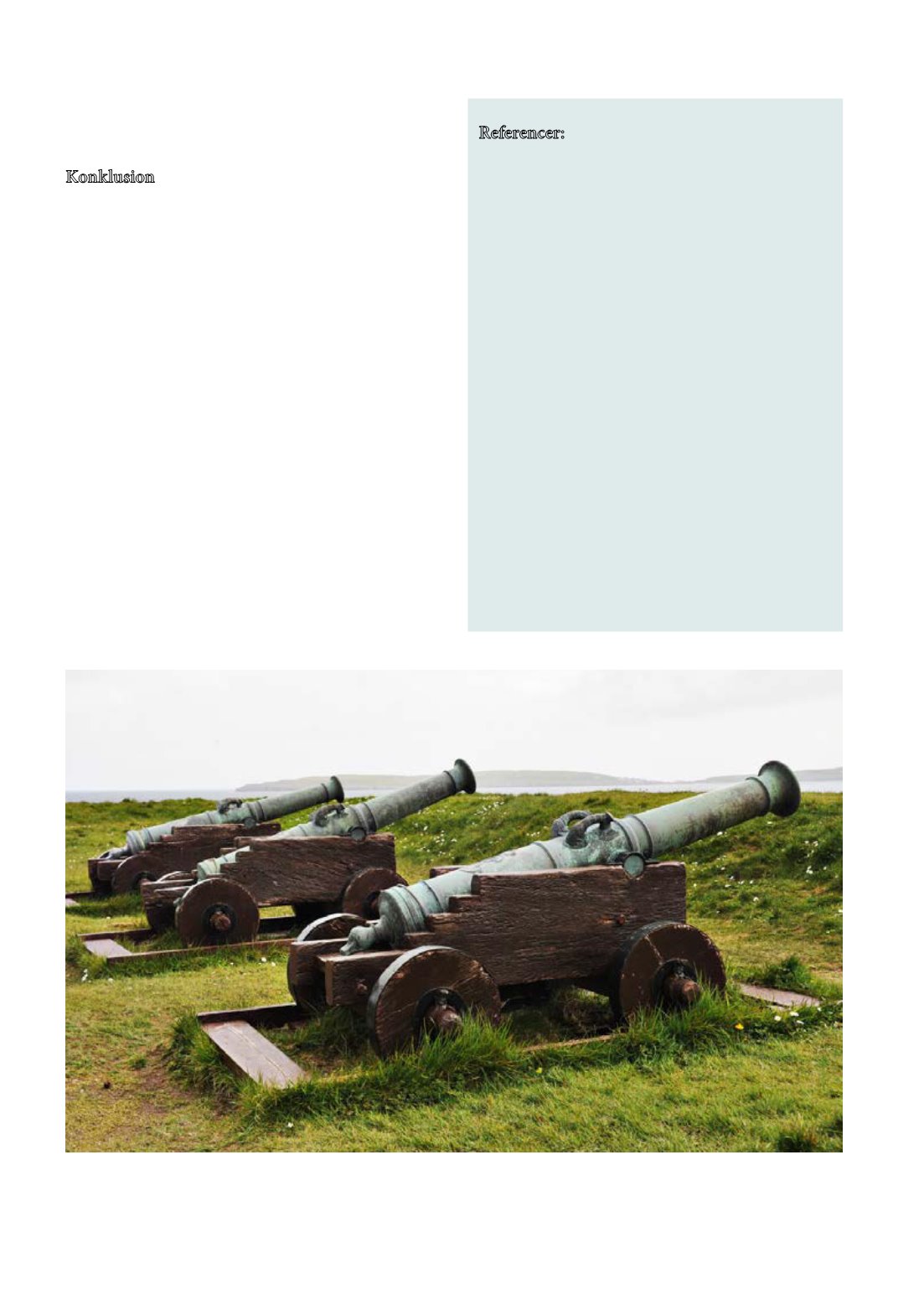 KliniskBiokemi i Norden · 2 2014
Samtidig stårdetklart, at gastroenterologen ikkekan
brugeCRP alene i vurdering af behandlingseffekt.
Konklusion
En række studier er foretaget for at findebiokemiske
markører for at hjælpe klinikeren i hverdagen til at
evaluere effekten af en iværksat behandling af IBD.
Ingen af dem kan siges at være helt ideelle.
Til diagnosticering og monitorering af både
Crohns sygdom og colitis ulcerosa samt ved vurde-
ring af behandlingsrespons, måman konkludere, at
CRPerdenmarkør, somerbedstundersøgtog som i
forhold til andre,ESRogorosomucoid, kananvendes
Det er samtidig vigtigt at være opmærksom på,
at det inflammatoriske respons ikke altid resulterer
i forhøjet CRP. Det ses ved nogle tilfælde af Crohns
sygdommed tyndtarmsaffektionog relativt ofte ved
Biokemiske markører er vigtige i den kliniske
hverdag til at håndtere patienter med IBD som et
supplement til den kliniske objektive undersøgelse,
billeddiagnostik, endoskopi oghistologi.
Referencer:
1. Shine B, Berghouse L, Jones JEL, Landon J.
C-Reactive protein as an aid in the differen-
tiation of functional an inflammatory bowel
disorders. ClinChimActa 1985;148:105-9.
2. Chambers RE, Stross P, Barry RE, Whicher
JT. Serum amyloid A protein compared with
C-reactive protein, alpha 1-antichymotrypsin
and alpha 1-acid glycoprotein as amonitor of
inflammatory bowel disease. Eur J Clin Invest
3. Poullis AP, Zar S, Sundaram KK, Moodie SJ,
Risley P, Theodossi A, Mendell MA. A new,
highlysensitiveassay forC-reactiveproteincan
aid the differentiation of inflammatory bowel
disorders from constipation- and diarrhoea-
predominant functional bowel disorders. Eur J
GastroenterolHepatol 2002;14:409-12.
4. BeattieRM.,Walker-SmithJA.,MurchSH. Indi-
cations for investigationofchronicgastrointesti-
nal symptoms.ArchDisChild1995;73:354-5.
5. Andre C, Descos L, Landais P, Fermanian J.
Kanonerna på Skansin i Tórshavn - i tidernaNordeuropas starkaste fästning. Foto: HenrikAlfthan.