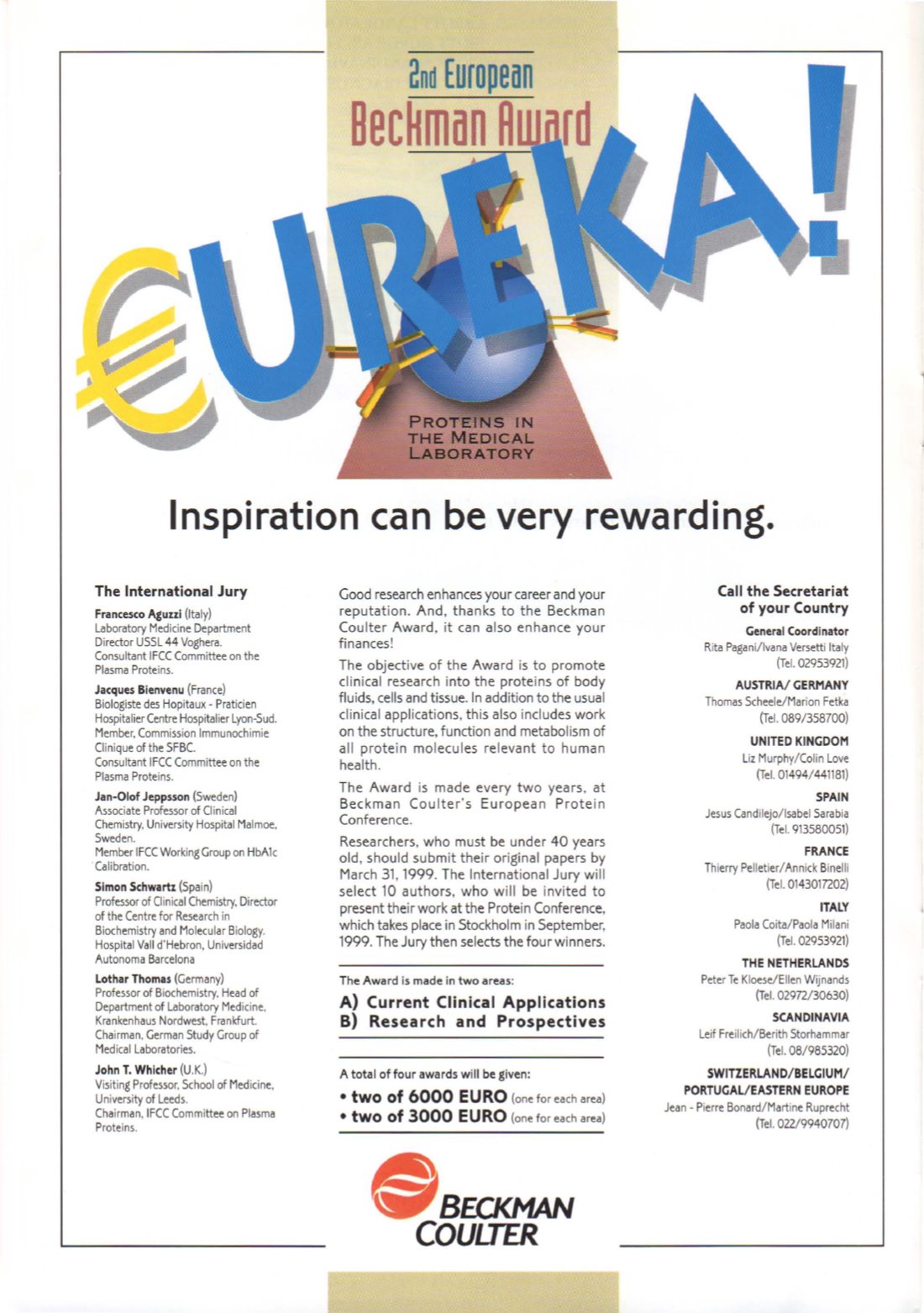 BeckmanR
Inspiration can be very rewarding.
LaboratoryMedicineDepartment
Consultant IFCCCommittee on the
Jacques Bienvenu (France)
Biologisie des Hopilaux- Praticien
HospitalierCentreHospitalier Lyon-Sud.
Member,Commission lmmunochimie
Consultant IFCCCommittee on the
Jan-Olof Jeppsson (Sweden)
AssociateProfessor of Clinical
Chemistry, UniversityHospital Malmoe,
Member IFCCWarkingGrouponHbAle
ProfessorofClinical Chemistry,Diredor
of theCentre for Research in
Biochemistry and Molecular Biology.
Hospital Vall d'Hebron,Universidad
Professor of Biochemistry,Head of
Departmentof LaboratoryMedicine,
KrankenhausNordwest,Frankfurt.
Chairman,GermanStudyGroupof
VisitingProfessor,School ofMedicine,
Chairman, IFCCCommittee on Plasma
Good research enhancesyour career and your
reputation. And, thanks to the Beckman
Coulter Award, it can also enhance your
The objective of the Award is to promate
clinical research into the proteins of body
fluids,cells and tissue. In addition to the usual
clinical applications, this also includes work
on the structure, function and metabolism of
all protein molecules relevant to human
The Award is made every two years, at
Beckman Coulter's European Protein
Researchers, who must be under 40 years
old, should submit their original papers by
March 31, 1999. The International Jurywill
select 10 authors, who will be invited to
present theirwork at the ProteinConference,
which takes place inStockholm inSeptember,
1999.The Jury thenselects the fourwinners.
TheAward is made in two areas:
A) Current Clinical Applications
B) Research and Prospectives
A total of four awardswill be given:
e
BECKMAN
COULTER
Rita Pagani/lvanaVersetti ltaly
ThomasScheele/MarionFetka
JesusCandilejo/lsabel Sarabia
Thierry Pelletier/Annick Sineiii
Peter Te Kleese/ EJlenWijnands
Leif Freilich/ BerithStorhammar
Jean- PierreBonard/MartineRuprecht