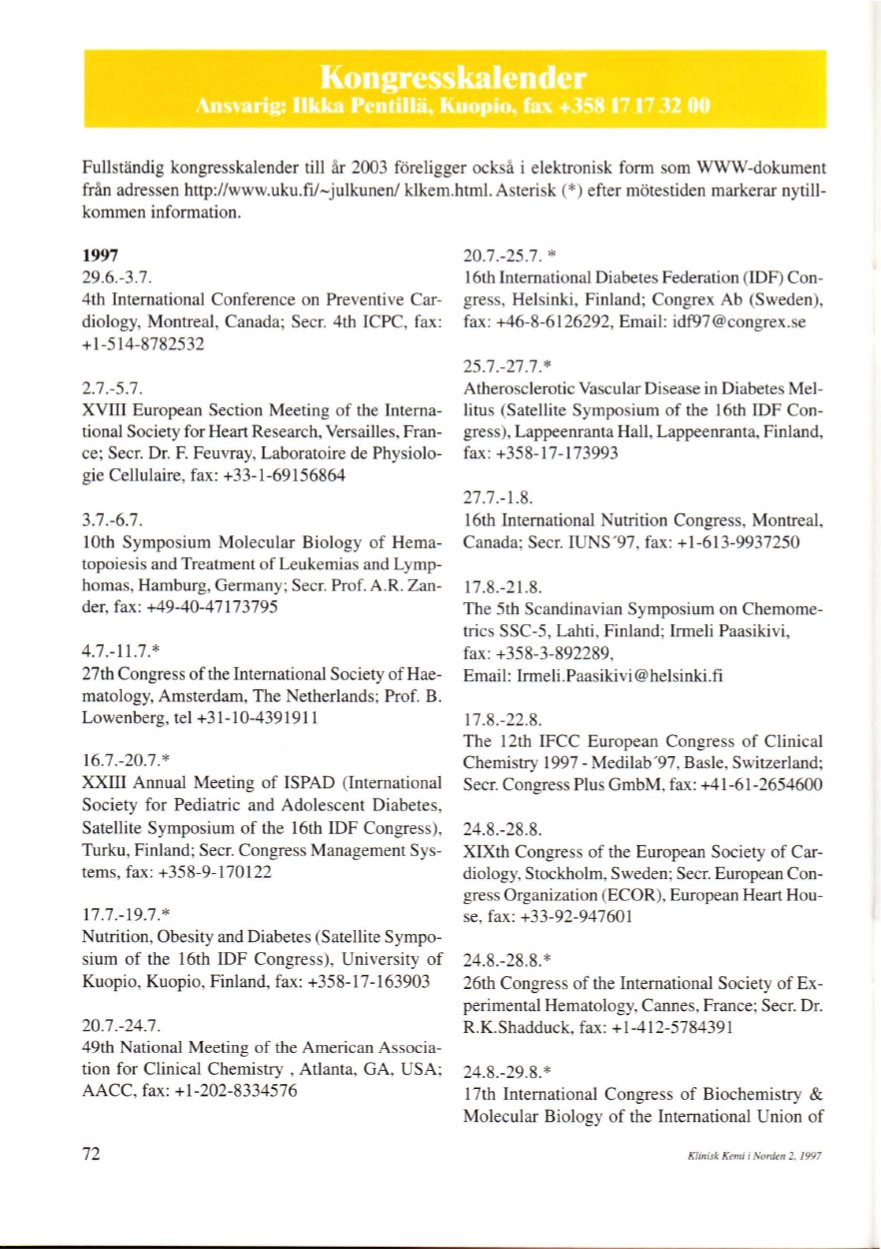 Kongresskalender
Ans,·arig: llkka Pentillä, Kuopio, fax +358 17 1732 00
Fullständig kongresskalender till år 2003 föreligger också i elektronisk form somWWW-dokument
/ klkem.html. Asterisk (*) efter mötestidenmarkerar nytill–
1997
4th International Conference on Preventive Car–
diology, Montreal, Canada; Secr. 4th ICPC, fax:
XVIII European Section Meeting of the Interna–
tional Society forHeartResearch,Versailles,Fran–
Feuvray,Laboratoire de Physiolo–
gie Cellulaire, fax: +33-1-69156864
10th Symposium Molecular Biology of Hema–
topoiesis andTreatment ofLeukemias andLymp–
homas, Hamburg,Germany; Secr.Prof.A.R.Zan–
der, fax: +49-40-47173795
27thCongress of the International SocietyofHae–
matology, Amsterdam, The Netherlands; Prof. B.
Lowenberg, tel +31-10-4391911
XXIII Annual Meeting of ISPAD (International
Society for Pediatric and Adolescent Diabetes,
Satellite Symposium of the 16th IDF Congress),
Turku, Finland;Secr. CongressManagement Sys–
Nutrition, Obesity andDiabetes (SatelliteSympo-
16th InternationalDiabetesFederation (IDF) Con–
gress, Helsinki, Finland; Congrex Ab (Sweden),
fax: +46-8-6126292, Email:
AtheroscleroticVaseularDisease inDiabetesMeJ–
Iitus (Satellite Symposium of the 16th IDF Con–
gress), LappeenrantaHall,Lappeenranta,Finland,
16th International Nutrition Congress, Montreal,
Canada; Secr. IUNS'97, fax: +1-613-9937250
The 5th Scandinavian Symposium on Chemome–
trics SSC-5, Lahti, Finland; Irrneli Paasikivi,
The 12th IFCC European Congress of C1inica1
Chemistry 1997 -Medilab'97, Basle, Switzerland;
Secr. Congress PlusGmbM, fax:+41-61-2654600
XIXth Congress of the European Society of Car–
diology,Stockholm,Sweden; Secr.EuropeanCon–
gressOrganization (ECOR),EuropeanHeartHou–
sium of the 16th IDF Congress), University of 24.8.-28.8.*
Kuopio, Kuopio, Finland, fax: +358-17-163903
26thCongress of the International Society ofEx-
perimental Hematology, Cannes,France;Secr.Dr.
R.K.Shadduck, fax: +1-412-5784391
49th National Meeting of the American Associa-
tion for Clinica1 Chemistry ,Atlanta, GA, USA;
AACC, fax: +1-202-8334576
17th International Congress of Biochemistry
Molecular Biology of the International Union of
Klinisk Kemi
i
Norden
2.
1997