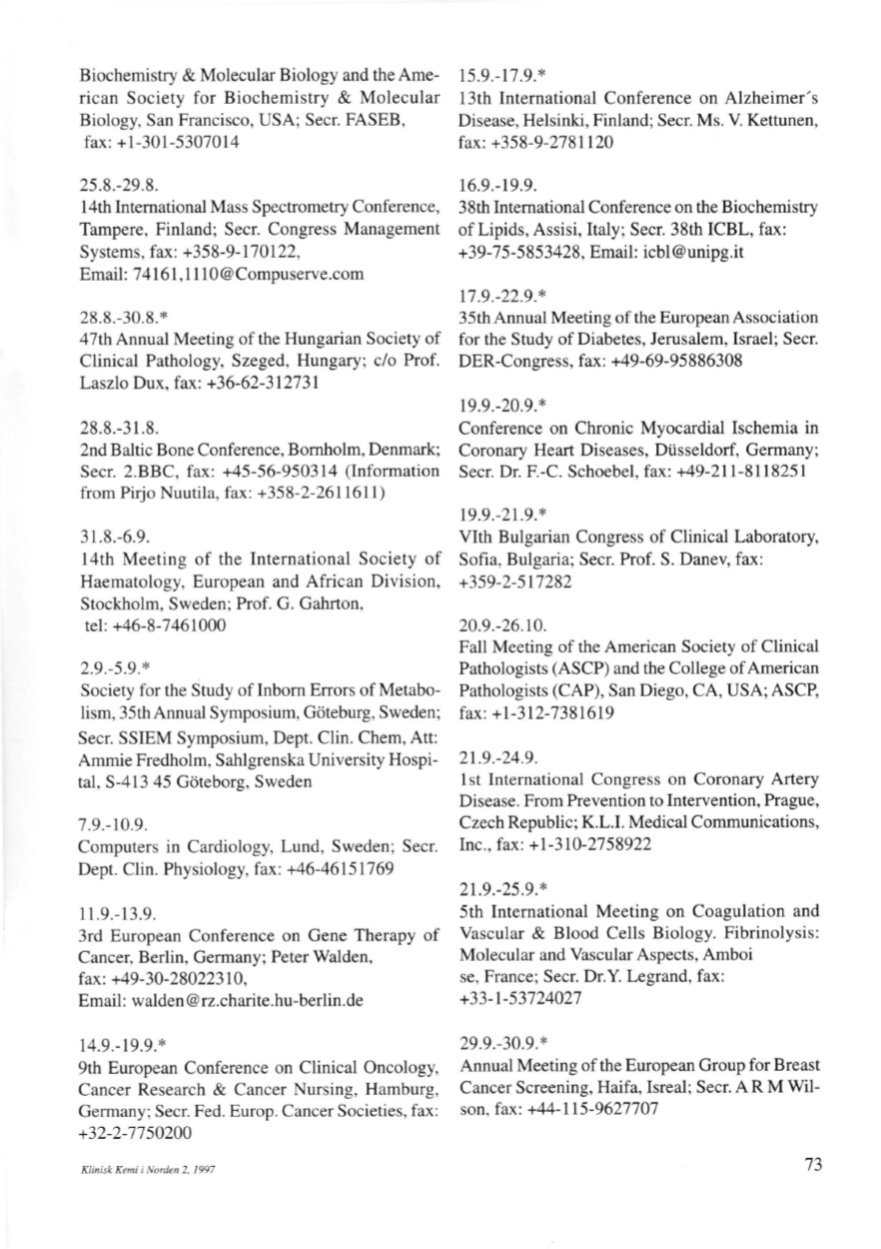 MolecularBiology and theAme–
rican Society for Biochemistry
Biology, San Francisco, USA; Secr. FASEB,
14th InternationalMass SpectrometryConference,
Tampere, Finland; Secr. Congress Management
Systems, fax: +358-9-170122,
Email: 74161,1110@Compuserve.com
13th International Conference on Alzheimer's
Disease,Helsinki, Finland;Secr.Ms.
38th InternationalConferenceon theBiochernistry
ofLipids,Assisi, ltaly; Secr. 38th ICBL, fax:
35thAnnua1Meeting of theEuropeanAssociation
47thAnnualMeeting of the Rungarian Society of for the Study ofDiabetes, Jerusalem, Israel; Secr.
Clinical Pathology, Szeged, Hungary; c/o Prof. DER-Congress, fax: +49-69-95886308
Laszlo Dux, fax: +36-62-312731
Conference on Chronic Myocardial Ischemia in
2ndBalticBoneConference,Bornholm,Denmark; Coronary Heart Diseases, Dtisseldorf, Germany;
Secr. 2.BBC, fax: +45-56-950314 (Information Secr. Dr. F.-C. Schoebel, fax: +49-211-8118251
from PirjoNuutila, fax: +358-2-2611611)
14th Meeting of the International Society of
Haematology, European and African Division,
Stockholm, Sweden; Prof. G. Gahrton,
Society for the Study of InbornErrors ofMetabo–
lism,35thAnnual Symposium,Göteburg,Sweden;
Secr. SSIEM Symposium,Dept. Clin. Chem,Att:
AmmieFredholm,SahlgrenskaUniversityHospi–
tal, S-413 45 Göteborg, Sweden
Computers in Cardiology, Lund, Sweden; Secr.
Dept. Clin. Physiology, fax: +46-46151769
3rd European Conference on Gene Therapy of
Cancer, Berlin, Germany; PeterWalden,
9th European Conference on Clinical Oncology,
Germany;Secr.Fed.Europ. CancerSocieties, fax:
Klinisk Kemi
i
Norden
2,
1997
VIth Bulgarian Congress of Clinical Laboratory,
Sofia, Bulgaria; Secr. Prof. S. Danev, fax:
Fall Meeting of theAmerican Society ofClinical
Pathologists (ASCP) and theCollegeofAmerican
Pathologists (CAP), SanDiego, CA, USA;ASCP,
Ist International Congress on Coronary Artery
Disease.FromPrevention to Intervention,Prague,
Inc., fax: +1-310-2758922
5th International Meeting on Coagulation and
Blood Cells Biology. Fibrinolysis:
Molecular andVaseularAspects, Amboi
AnnualMeeting of theEuropeanGroup forBreast
Cancer Screening, Haifa, Isreal; Secr. ARMWil–