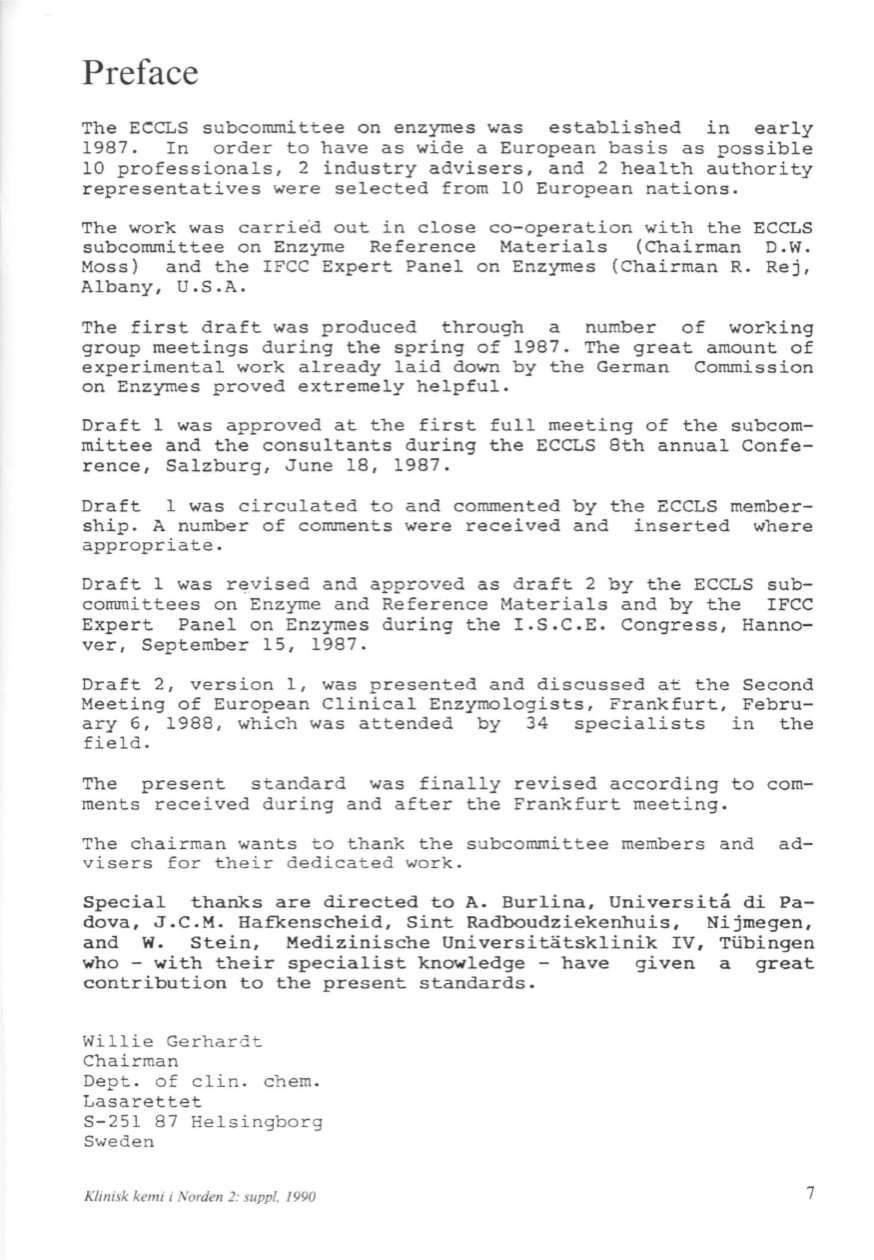 Preface
The ECCLS subcommittee on enzyrnes was established in early
1987. In order to have as wide a European basis as possible
10 professionals, 2 industry advisers, and 2 health authority
representatives were selected from 10 European nations.
The work was carrie·d out in close ca-operation with the ECCLS
subcommittee on Enzyrne Reference Materials (Chairman D.W.
Mass) and the IFCC Expert Panel on Enzyrnes (Chairrnan R. Rej,
The first draft was produced through a number of working
group rneetings during the spring of 1987. The great amount of
experimental work already laid down by the German Commission
on Enzyrnes proved extremely helpful.
Draft l was approved at the first full meeting of the subcorn–
rnittee and the consultants during the ECCLS 8th annual Confe–
rence, Salzburg, June 18, 1987.
Draft l was circulated to and commented by the ECCLS rnernber–
ship. A number of comments were received and inserted where
Draft l was revised and approved as draft 2 by the ECCLS sub–
comrnittees on Enzyrne and Reference Materials and by the IFCC
Expert Panel on Enzyrnes during the I.S.C.E. Congress, Hanno–
Draft 2, version l, was presented and discussed at the seeond
Meeting of European Clinical Enzyrnologists, Frankfurt, Febru–
ary 6, 1988, which was attended by 34 specialists in the
The present standard was finally revised according to earn–
ments received d u ring and after the Frankfurt meeting.
The chairrnan wants to thank the subcomrnittee mernbers and ad–
v i sers for their dedicated work.
Special thanks are directed to A. Burlina, Universitå di Pa–
dova, J.C.M. Hafkenscheid, Sint Radboudziekenhuis, Nijmegen,
Stein, Medizinische Universitätsklinik IV, Tubingen
who - with their specialist knowledge - have given a great
contribution to the present standards.
Klinisk kemi
Norden 2: supp/, 1990