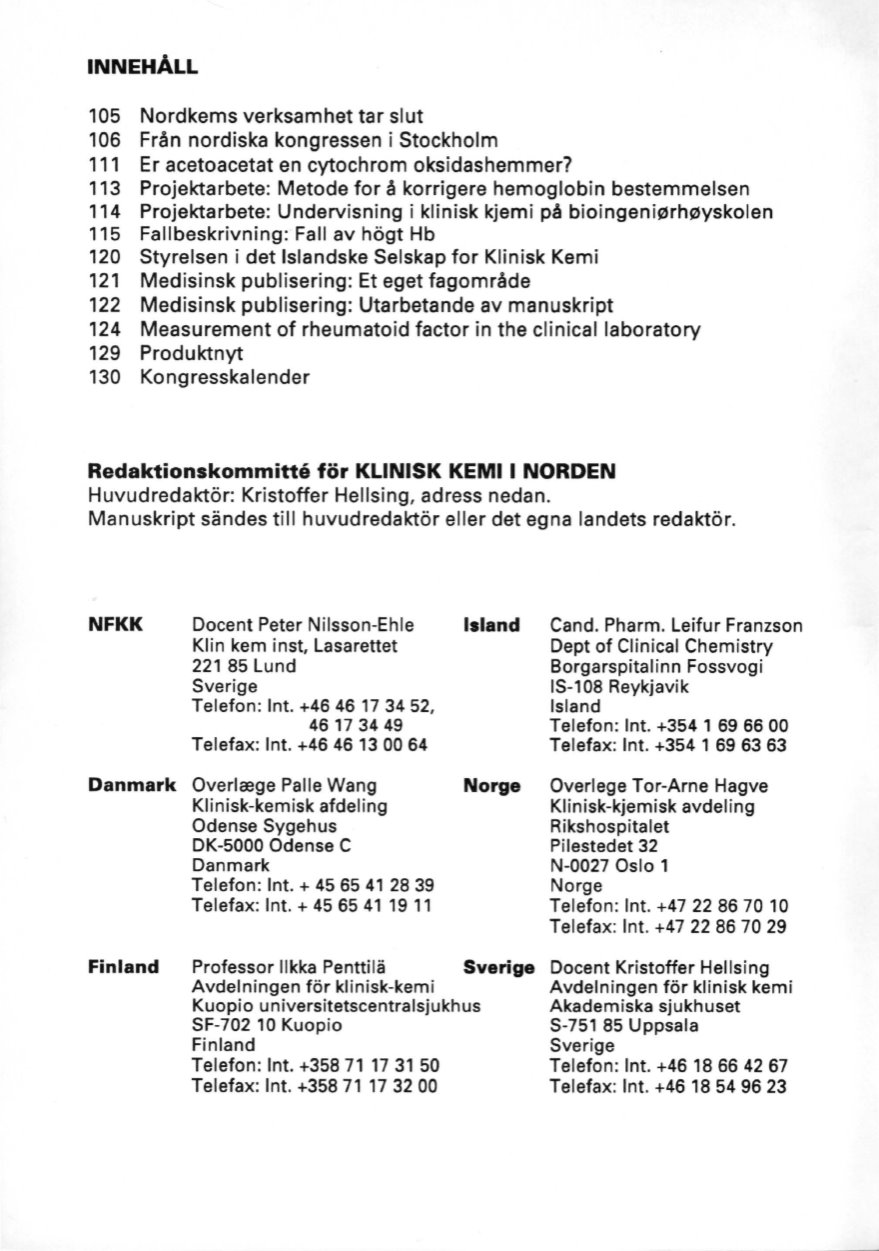 INNEHÅLL
Nordkems verksamhet tar slut
Från nordiska kongressen i Stockholm
Er acetoacetat en cytochrom oksidashemmer?
Projektarbete: Metodefor å korrigere hemoglobin bestemmelsen
Projektarbete: Undervisning i klinisk kjemi på bioingeni!11rh!11yskolen
Fallbeskrivning: Fall av högt Hb
Styrelsen i det Islandske Selskap for Klinisk Kemi
Medisinsk publisering: Et eget fagområde
Medisinsk publisering: Utarbetande av manuskript
Measurement of rheumatoid factor in the clinicallaboratory
Redaktionskommitte för KLINISK KEMI l NORDEN
Huvudredaktör: Kristoffer Hellsing, adress nedan.
Manuskript sändes till huvudredaktör eller det egna landets redaktör.
NFKK
Docent Peter Nilsson-Ehle
Klin kem inst, Lasarettet
Telefon : lnt. +46 46 17 34 52,
Telefax: lnt. +46 46 13 00 64
Danmark
Telefon: lnt. + 45 65 41 28 39
Telefax: lnt. + 45 65 4119 11
Island
Cand. Pharm. Leifur Franzson
Dept of Clinical Chemistry
Telefon: lnt. +354 1 69 66 00
Telefax: lnt. +354 1 69 63 63
Norge
Telefon: lnt. +47 22 86 70 10
Telefax: lnt. +47 22 86 70 29
Finland
Sverige
Docent Kristoffer Hellsing
Avdelningen för klinisk kemi
Avdelningen för klinisk-kemi
Kuopio universitetscentralsjukhus
Telefon: lnt. +358 71 17 31 50
Telefax: lnt. +358 71 17 32 00
Telefon: lnt. +46 18 66 42 67
Telefax: lnt. +46 18 54 96 23